Tomb Raider (2018) Movie
Information
The third Tomb Raider movie, the first to follow the backstory established in the 2013 reboot game "Tomb Raider (A Survivor is Born)" and continued in "Rise of the Tomb Raider", is scheduled to hit cinemas worldwide on 16 March 2018.
(Photographs included in this article have been provided by Warner Brothers.)
Swedish actress Alicia Vikander has been cast to play the role of Lara Croft, thus following Angelina Jolie who played the part in the first two movies. The Norwegian Roar Uthaug, who is known for Cold Prey, The Wave and Escape will serve as director. Geneva Robertson-Dworet provides the script. The production companies for this project are GK Films and Metro-Goldwyn-Mayer (MGM).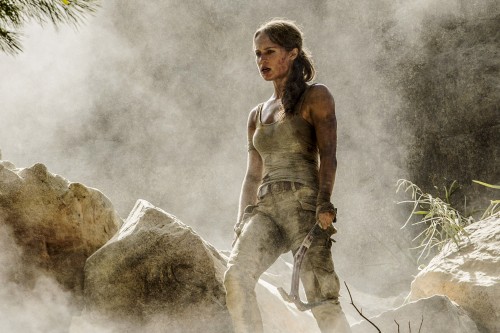 Alicia Vikander as Lara Croft (Promo 1)
Story
Lara Croft (Alicia Vikander) is the fiercely independent daughter of the eccentric adventurer Richard Croft, who vanished seven years ago. Now a young woman of 21 without any real focus or purpose, Lara navigates the chaotic streets of trendy East London as a bike courier, barely making the rent, and takes college courses, rarely making it to class. Determined to forge her own path, she refuses to take the reins of her father's global business empire just as staunchly as she rejects the idea that he's truly gone. Advised to face the facts and move forward, even Lara can't understand what drives her to finally solve the puzzle of his mysterious death. Going explicitly against his final wishes, she leaves everything she knows behind in search of her dad's last-known destination: a fabled tomb on a mythical island that might be somewhere off the coast of Japan. But her mission will not be an easy one; just reaching the island will be extremely treacherous. Suddenly, the stakes couldn't be higher for Lara, who—against the odds and armed with only her sharp mind, blind faith and inherently stubborn spirit—must learn to push herself beyond her limits as she journeys into the unknown. If she survives this perilous adventure, it could be the making of her, earning her the name tomb raider.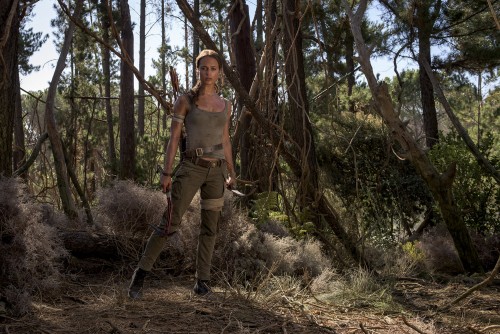 Alicia Vikander as Lara Croft (Promo 2)
Preview
Clad in dark hiking boots, green cargo pants, a dirty grey tank top, and carrying bow and climbing axe, Alicia Vikander's look closely resembles that of Lara Croft in the 2013 reboot game that serves as source for the upcoming movie.
In an interview with
GQ
director Roar Uthaug promised that "Tomb Raider" will try to not disappoint fans, like many other video game adaptions do. In order to achieve this the team working on the movie 'drew a lot of inspiration and reference from the game and the entire Tomb Raider canon'.
If you are familiar with the 2013 game "Tomb Raider: A Survivor is Born" you will recognise similarities between the storylines. It remains to be seen how much will differ and whether that will help make the movie unique and interesting or confuse fans by introducing new contradictions in Lara's background story.
From the character list we learn that two key characters from the reboot game, Lara's Mentor Conrad Roth and the main antagonist Father Mathias, will appear in the movie.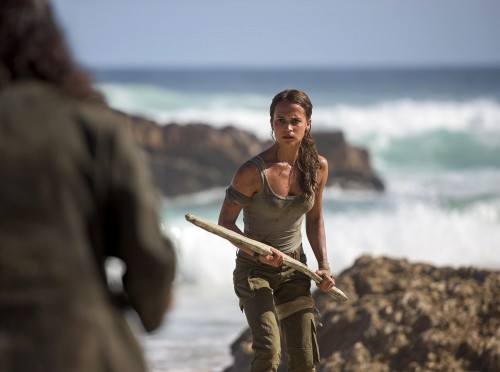 Alicia Vikander as Lara Croft (Promo 3)
Trailers
The
first trailer
was released on 20 September 2017. The
second trailer
followed on 18 January 2018.
Cast & Crew
Lara Croft --- Alicia Vikander
Lu Ren --- Daniel Wu
Father Mathias Vogel --- Walton Goggins
Lord Richard Croft --- Dominic West
Conrad Roth --- Alexandre Willaume
Alex Ren --- Leo Ashizawa
Mercenary --- Adrian Collins
Helicopter Pilot --- Vere Tindale
© www.tombraidergirl.com Personal use only, no reproduction. Last changes: 22 Feb 2018, 10:09
I do my best thinking plunging off cliffs.