Tomb Raider The Prophecy
Komplettlösung
Schweden

Level 0: PRLD
Level 1: GAZE
Level 2: MEDI
Level 3: HAXE
Level 4: PATH
Level 5: BONE
Level 6: TREE
Level 7: LINK

Kambodscha

Level 8: KURZ
Level 9: HELL
Level 10: WEFX
Level 11: MEMO
Level 12: HEAR
Level 13: FITZ
Level 14: ELRC
Level 15: CLIK
Level 16: MGSL
Süd Italien

Level 17: ROMA
Level 18: MONK
Level 19: AEON
Level 20: TIME
Level 21: OLIM
Level 22: LAND
Level 23: DART
Hauptquartier

Level 24: HILL
Level 25: CHEX
Level 26: STLK
Level 27: MECH
Level 28: ARKD
Level 29: MUSH
Level 30: SPOK
Level 31: LITH
Tomb Raider: The Prophecy - Übersicht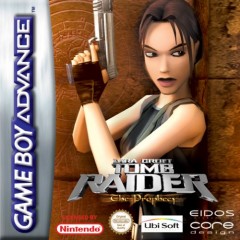 Erscheinungtermin: 15. November 2002
Plattformen: Game Boy Advance
Entwickler: Ubi Soft
Beschreibung:
Tomb Raider The Prophecy ist das erste Tomb Raider Spiel für den Game Boy Advance. Es gab zwei Vorgänger für den Game Boy Color. Besitzer eines GBA können sich freuen, denn auch sie können die Color Spiele spielen, nicht aber andersherum. Wer also nur einen Game Boy Color hat, wird The Prophecy nicht spielen können.
© www.tombraidergirl.com Personal use only, no reproduction. Last changes: 13 Apr 2018, 15:57
Isn't she beautiful? I'm falling in love all over again.